First Dance Graduation Tips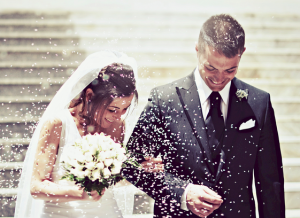 Ok so you gave him 1 job, just one job. All he had to do was pick up the phone 6 months ago and schedule the wedding dance lessons. By now your first dance would be complete and you wouldn't be feeling this pressure. Fast forward, it's time to get started! We have 5 weeks until the wedding and with a little hard work, some dance lessons, and practice you're going to survive.
The biggest challenge of working with wedding clients is getting everyone together at the same time. The last 2 months before your wedding you will be experiencing things like multiple dress fittings, buying wedding shoes, meeting with your wedding planner, taking your bachelorette and bachelor trips, and attending other people's weddings.
We teach numerous styles of ballroom dance which gives us complete flexibility with any song you choose. How will you know how many lessons to take for your first dance? At Windy City Wedding Dance, we created several different packages in order to accommodate clients for their budget and time constraints. Our minimum recommendation is 4 lessons and we have packages that go all the way up to 25 lessons. We feel it takes a minimum of 4 to understand and learn your basic dance steps. Like anything else, if you do the bare minimum than your dancing will follow suit.
WHEN WILL WE BE READY FOR OUR FIRST DANCE
FIRST DANCE GRADUATION TIPS
1. MOVE THOSE HIPS AND NOT THOSE LIPS
Oh my, have you ever watched a disaster wedding dance? This is clearly the couple who took 1 dance lesson and the lips are moving the entire time while he is counting and he has that deer in the headlights look. Most of our couples ask to not look like the couple I just described. They want to look comfortable and natural on the dance floor. During our dance lessons, we practice our moves enough so we don't have a strained look on our face. At this point we can stop counting and start dancing.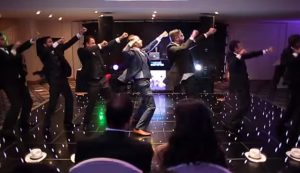 2. STOP LOOKING AT THE FLOOR
Looking at the floor is a common action for beginner level dancers. Looking down must be nipped in the bud right away. It's a hard habit to break, but with focus and repetition we can eliminate that habit right away during your dance lessons. It's important to carry out good habits into your wedding dance practice time. Looking at each other is key during your first dance.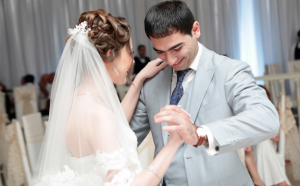 3. START YOUR DANCE ON TIME
When you first walked in the wedding dance studio you thought you couldn't hear the rhythm, but that all changed when we talked about the percussion in the song. Now you can hear the beat and your able to count the music. Sometimes there is a feeling of anxiousness when you're in the middle of the dance floor waiting to pick up the beat. Just walking into the middle of the room can feel like an eternity. Slow down, take a deep breath, and start your first dance on time just like we practiced during your dance lessons.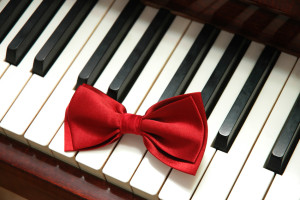 4. SMILE ITS YOUR WEDDING DAY
The key ingredient to rocking your first dance is smiling. All your guests want is to see you happy. None of them can even see her feet and they don't know the first thing about timing. All that truly matters is seeing 2 people hold each other embraced and in love on the dance floor. Let your happiness shine through your smile.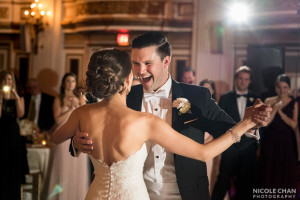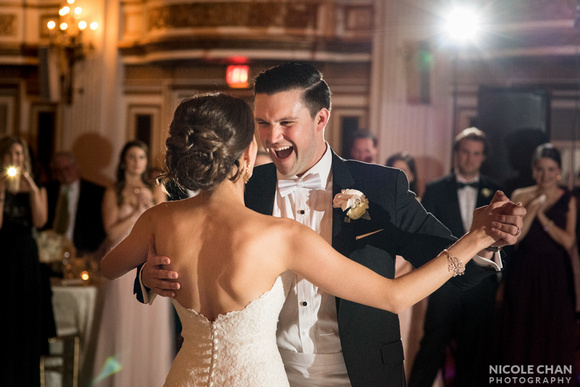 We enjoy sharing our latest news in wedding dance and hope you enjoyed our blog First Dance Graduation Tips. We would love to have you in our dance studio. Not only do we teach couples how to prepare for their first dance, we also have group classes and private lessons for individuals as well. We are located at 410 S Michigan Ave in the Fine Arts Building on the second floor. We accommodate dance lessons 7 days a week all day until 9:00pm.
We have an easy and convenient location for people who live or work in the South Loop and a very easy quick commute from River West, Streeterville, Gold Coast, Lincoln Park, River North, West Loop, West Town, Lake View, Lake Shore East, or the Chicago Loop.
Interested in coming to see a live performance hosted by Windy City Wedding Dance. On October 18th come and check out the Studebaker Ballroom Broadway Show at 410 S Michigan Avenue. Tickets can be purchased here.
[actionbox color="primary" title="To Book Now At Windy City Wedding Dance" description="Request Dance Lesson Today" btn_label="Click Me!" btn_link="https://windycityweddingdance.com/book-today" btn_color="default" btn_size=small"" btn_icon=" fa-envelope" btn_external="0″]
If you like our Blog First Dance Graduation Tips then you may enjoy reading about
Studebaker Ballroom Dance Show