2015 Classic Wedding Dance Songs
Are you a classic kind of gal or guy? Choosing a song for your first dance can be daunting without some guidance from a wedding dance specialist. It may be your favorite song, but can you dance to it? Is the song to fast or is it to slow? I'm looking forward to sharing our list from Windy City Wedding Dance as well as providing some tips and tricks that can help you with the music of your choice.
First I'd like to share a list of some oldies but goodies that just don't expire. From our experience not only do our couples enjoy dancing to these songs, but the guests love them too.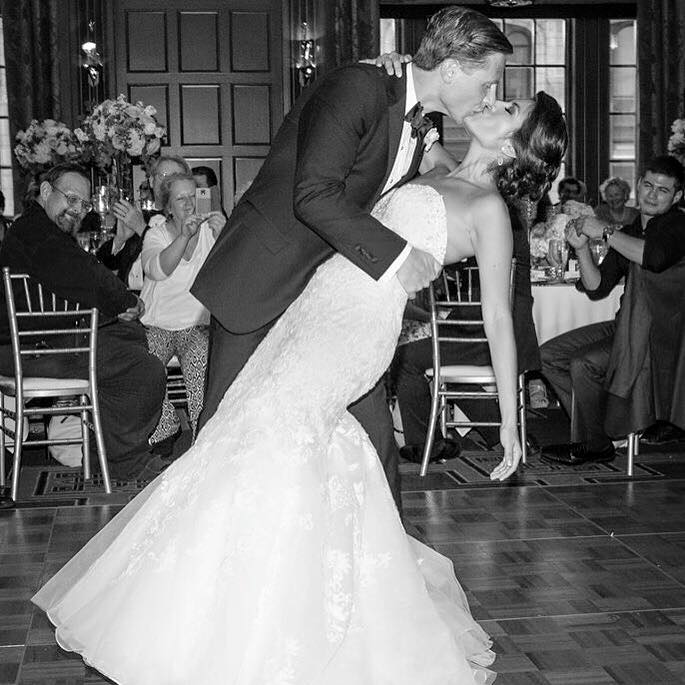 CLASSIC WEDDING DANCE SONGS
BEYOND THE SEA – Bobby Darin
This was a pop romantic love song from the 1940's. This classic tune is a great upbeat Foxtrot or Rumba style of dance. Just imagine your honey in his sailor suit dancing his way back to you.
IT HAD TO BE YOU – Harry Connick Jr. or Frank Sinatra
Believe it or not, this song was first published in the 1920's. This song is definitely an oldie classic. At the time, it was considered a pop song. This is another great song for ballroom dancing. The beat is easy to hear and the dance styles best suited are Foxtrot and Rumba.
CAN'T TAKE MY EYES OFF YOU – Frankie Valli
If you saw Jersey Boys then you know all about Frankie Valli and The Four Seasons. This is a romantic single by Frankie Vallie and was considered a pop rock song in the 1960's. This is definitely a classic in our eyes with the perfect lyrics for a wedding dance.
THE BEST IS YET TO COME – Frank Sinatra
Well it's probably a safe bet to comb through all of Frank Sinatra. You can't go wrong with most of his music. This is a great tune for those who have a little spring in their step but just want to keep it fun. Another great song for dancing not only Rumba but also Foxtrot.
AIN'T THAT LOVE – Ray Charles
How much do you want to smile during your wedding dance? Well if it's smiling that's important then try out some Ray Charles. I just adore these simple lyrics. Ain't That Love was released in the 1950's and continues on today to be one of our personal favorites at Windy City Wedding Dance.
AIN'T NO MOUNTAIN HIGH ENOUGH – Marvin Gaye & Tammye Terrell
Hello, we all watched Sister Act! This is just a beautiful song to share on your wedding day. Its up-beat, romantic, and fun. You can catch the entire crowd singing along as you take your first dance to the middle of the crowd.
ALL I NEED IS THE GIRL – Frank Sinatra & Duke Ellington
Another one of my new favorites is All I Need Is The Girl- It's such a great tune for a first dance. It's a classic that flies under the radar. This is the perfect song for a nice easy Foxtrot or Rumba. This song was featured in Frank Sinatra's album in the 1960's.
AT LAST – Etta James
At Last is the perfect rhythm for a dance style called Night Club 2 Step. We all love Etta James and that voice. Why not bring her in just for our wedding dance? A very forgiving song with lots of romantic dipping opportunities. This hit was released in the 1960's.
BONUS SONG FOR THE FATHER DAUGHTER DANCE
ISN'T SHE LOVELY – Stevie Wonder
Stevie Wonder released this hit in the 1970's. The lyrics are perfect for the father daughter dance.
BONUS TIP
Are you feeling like the song you chose is too fast? Try downloading an AP to slow down the tune. For just a dollar you can get a better feeling of what speeding up or slowing down the music can do for your first
Interested in learning how to dance for your wedding in downtown Chicago? Check out our website at www.windycityweddingdance.com. Working with one of our wedding dance specialist can take a lot of stress and pressure off the wedding day. Taking ballroom dance lessons for your wedding can be a great activity for the two of you. Its like nothing you've ever done. Sharing these moments on the dance floor will create an unforgettable experience.
[actionbox color="primary" title="To Book Now At Windy City Wedding Dance" description="Request Dance Lesson Today" btn_label="Click Me!" btn_link="https://windycityweddingdance.com/book-today" btn_color="default" btn_size=small"" btn_icon=" fa-envelope" btn_external="0″]
[contacts_form]