Wedding Dance Trump Tower
Several months back a beautiful young lady and gentleman walked into the studio to prepare for their first dance. We talked about their upcoming wedding scheduled for July of 2015. Although John and Lauren hadn't decided on their final song, we started to sample different ballroom dance styles and made the final decision on a Foxtrot and Rumba. Lauren and John were naturals! With Lauren's former background in gymnastics and John's background in music, these two were destined to have a one of a kind first dance.
From the invitations down to the table set up, John and Lauren selected only the finest decor and most exclusive options at Trump Hotel and Towers. As we entered Trump Hotel we were directed to the 16th floor and into a room where Lauren and John would be having their ceremony. A beautiful white runway lead to a center stage in the middle of the floor. The architecture of the room was circular and John and Lauren would be standing in the middle on stage for all their guests to see.
As John came down the aisle I could see the happiness and excitement on his face. He was taking it all in, seeing the people he loved. It was a mutual admiration between John his family and friends. Lauren, the beautiful bride, hit the white runway practically sprinting into John's arms. Lauren locked eyes with John and you could see love, respect, and excitement beaming through her. Make no mistake, her dreams were coming true one by one as the night went on.
At the end of the ceremony, all the guests were surprised by a live band. The singers stood and began to sing acapella to our favorite Beetles Song "All You Need is Love." Then the band kicked in, it was a great start to kicking off the official celebration of Mr. and Mrs. Rogalski. John held Lauren and then they dashed into the hall together holding hands.
Once the couple left the white runway, we exited the room into the grand hallway and proceeded to the cocktail hour. Shrimp, Sushi, Grilled Cheese, Bacon Wrapped surprises, circled the floors. Meanwhile, why we celebrated with cocktail hour, the main reception room was being flipped into a magnificent palace of purple and lilac orchids with a speechless array of decor on the tables.
WEDDING DANCE TRUMP TOWER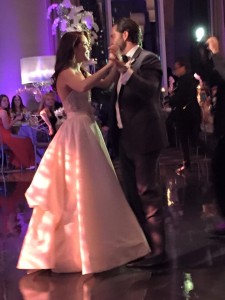 And then the moment came. The moment I was waiting for. After dinner was served the announcement about John and Lauren's first dance came over the speaker. I sprung to my feet and stood up to watch my couple execute the perfect wedding dance. When I say perfect I mean perfect. I watched as they both grinned throughout the magical 2 minutes with all of their Foxtrot and Rumba moves. John and Lauren's wedding dance made me extremely proud. They worked hard during their dance lessons. I sprinted out to the middle of the dance floor and greeted them both with a hug and a huge congrats.
John and Lauren have expressed an interest in continuing their dance journey together. There is truly something magical that happens between 2 people when they learn to dance together. This Cinderella had to work early the next morning, but I am so happy I was able to share with special moment with my beautiful couple. They certainly worked hard and it showed.
At Windy City Wedding Dance you can find the perfect wedding dance that fits the look and feel you need for your wedding day. Thinking about trying some ballroom dance lessons? We teach singles and couples the art of ballroom dancing.
[actionbox color="primary" title="To Book Now At Windy City Wedding Dance" description="Request Dance Lesson Today" btn_label="Click Me!" btn_link="https://windycityweddingdance.com/book-today" btn_color="default" btn_size=small"" btn_icon=" fa-envelope" btn_external="0″]
Google
[contacts_form]