Top 5 Wedding Songs In 2015
Its been another exciting year at Windy City Wedding Dance. It's not quite over yet, we still have a few more clients getting married during the holiday months. Its time to share our 2 cents with you. Most of you starting to plan for weddings in 2016 have many decisions to make and picking a song for your first dance is just one of many.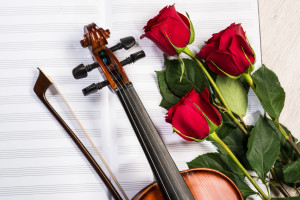 How Do I Pick My Wedding Dance Song
Many of our wedding couples need some guidance in this department. Researching lists on Google is a popular way to start researching songs appropriate for your wedding dance. It's best to come in with a list of songs you'd like to consider. Scheduling an introductory wedding dance lesson is a great way to get some time in front of a wedding professional that can help demonstrate the different dance styles that would work with your music selection. Believe me there is such a thing as too slow or too fast. Finding a song with an even tempo is important and will make the dancing very natural and fun. Let your wedding dance teacher help guide you down the right path.
Top 5 Wedding Dance Songs In 2015
Just so happens that these songs were the most requested songs by Windy City Wedding Dance clients in 2015. With over 1000 wedding dance lessons taught in 2015 there were definitely a few artist that took the top spots.
Ed Shareen – Thinking Out Loud
In January of 2015 one of our clients chose Ed Shareen Thinking Out Loud. After listening to the lyrics and the song just once, I knew this would be the hit of the 2015 Wedding Season. My clients asked me to watch the video online and so I did. Soon after I wrote a blog on February 13, 2015 letting the world know what they would be hearing at every wedding this year. This is my told you so moment. Click To Read My Prediction.
The Way You Look Tonight – Frank Sinatra
How can you go wrong with this song. Its the perfect tempo and just the right kind of song for everyone. I predict this classic will always come in as a top 5 wedding song.
Dirty Dancing I've Had The Time of My Life
Yes its true we do get the request and often to be honest. Everyone likes a little Patrick Swayze. I typically have our instructor Vaneza teach all the Dirty Dancing Clients. This hot sizzling Mambo is always a crowd pleaser.
Latch – Sam Smith
Coming in at 2nd place was Latch by Sam Smith. This was another popular song you would hear several time a week in the wedding dance studio. The lyrics were romantic with passionate dips and valleys in the music.
Uptown Funk – Bruno Mars
Yes its true we have plenty of clients who are ready for their wedding dance to go viral. We had a lot of fun this year choreographing to this upbeat party song. It certainly got everyone going no doubt.
ABOUT US
We are Chicago's top wedding dance school. Check out our reviews on Yelp, Google, and The Knot. We are located in the Chicago Loop, Lincoln Park, and Naperville Aurora. We are easily accessible from Lincoln Park, South Loop, River North, River West, River East, West Loop, Gold Coast, Lake View, and more.
2016 Wedding Planning
Are you planning for a wedding in 2016 and starting to choose your vendors. Come schedule a FREE Wedding Dance Consultation and find out what it takes for your first dance. All consultations must be scheduled in advance and have a 48 cancellation policy. We are a wedding boutique and get very busy so book it fast. Consults only available at our 410 S Michigan Avenue Location or Napereville/Aurora [row][one_third][pricing_table] [pricing_column title="WEDDING CONSULTATION" price="FREE" time="How Many Lessons Will You Need"] [pricing_row]Learn About Ballroom Dance Styles[/pricing_row] [pricing_row]Experience The Atmosphere[/pricing_row][pricing_row]Feel The Magic[/pricing_row] [pricing_footer url="https://windycityweddingdance.com/wedding-dance-consultation" type="default" size="small"]REQUEST NOW[/pricing_footer] [/pricing_column] [/pricing_table] [/one_third][two_third]