Learn About Salsa Dancing in Spain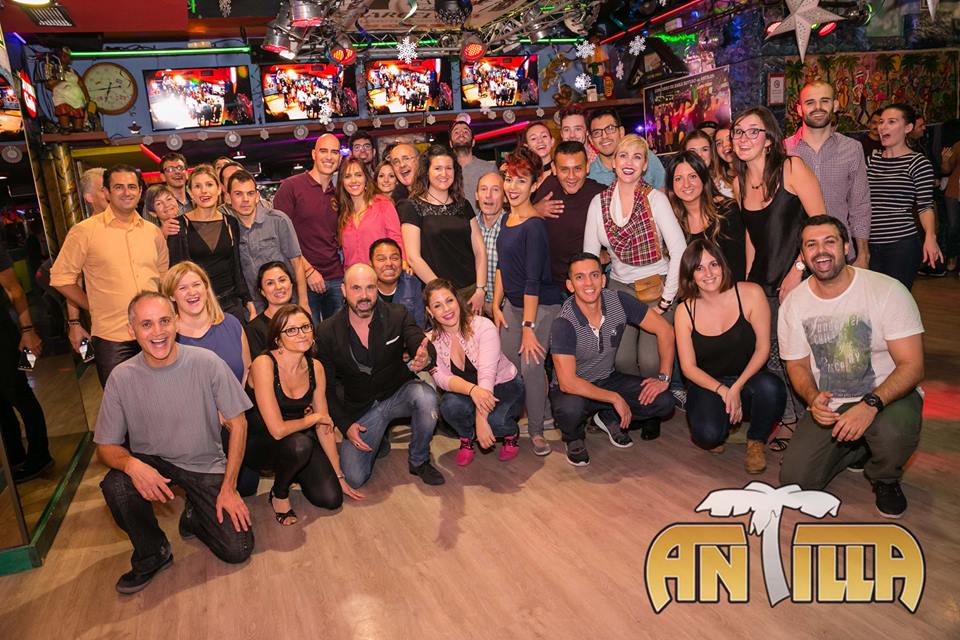 Salsa Dancing in Spain
Vaneza Perez, our lead Salsa Instructor, and myself, Jessica, owner of Windy City Wedding Dance recently traveled to Barcelona Spain. One of the goals on our bucket list was to find a dance school and study Salsa abroad. Salsa dancing in Spain was a mutual goal. My personal number 1 goal was to find Paella, a tasty Spanish rice dish with a plethora of exciting sea life. After help from some friends and some research on the internet we were able to find a place to dance called Antilla. As we arrived to the dance school we soon learned that not only was this a dance school but also a Salsa Disco-tech. I guess the best way to describe this place is a dance school with some bar tenders. If you're an avid salsa dancer and a female you soon learn that there isn't much time for drinks. As soon as you try to order, someone is asking you on to the dance floor. This is both true for Spain and the United States.
Once Vaneza and I arrived to the dance school we participated in a 1 hour Bachata Class. Bachata is another social latin music dance style that is normally played while attending a Salsa dance event. Vaneza, who is fluent in Spanish was able to follow the words, however I had to rely most on the visual demonstration of the Bachata instructor. It just goes to show how important demonstrating the lead and follow's part when teaching a class. If your instructor can't break down both parts then you may find yourself lost during a class or in need of a new dance teacher. I always wondered how they would get all those spanish numbers in because the full pronunciation of each spanish number would exceed the timing of the step. It all became so clear as I started to listen to the instruction. I may not be fluent in Spanish but I can speak a little and understand most conversation topics. Instead of saying UNO they say UN. The level of dancing was pretty high for the 1 hour Bachata Class. There were probably 40 people in the class. We learned some basic Bachata steps all facing the mirror to warm up. After we completed the warm up we started to dance together with our classmates. Throughout the class we rotated partners and by the end of the class we were able to demonstrate an entire advanced Bachata section. They offered some alternate patterns for those who couldn't quite keep up with the advanced moves. Vaneza and I will be coming home with some new Bachata moves.
After the completion of the Bachata Class they lowered the lights, turned up the music and then people started pouring in the disco-tech. It was now officially social dance time. Vaneza stormed the floor immediately staking her white flag in the middle of the Barcelona dance floor asking for a dance to get the party started. I am more of a black panther moving to the perimeter to hide, however that didn't last long I was asked to the dance floor over and over again. The next time we looked at the clock it was 5:00am and we had officially danced more Salsa in one night then in our entire lives. We didn't even close the place down.
Last year I danced Salsa in Madrid. I wasn't sure what I was dancing but it wasn't the same as we dance in the United States. Barcelona is a melting pot of all different Salsa from various countries, I danced with people from the Dominican Republic, Cuba, Spain, Peru, Ecuador, and South Africa. All the leads dance style were slight different, but they were mostly all dancing Cuban Style. The best way to describe Cuban Style is cylindrical. I actually like it better than going back and forth and back and forth. There are also characteristics of Rueda in their basic. All in all it was a great experience and so much fun. If you are looking to travel abroad to another country in Europe and love to Salsa Dance we highly recommend Barcelona. Salsa dancing in Spain was a highlight of our trip.