Chicago DanceSport Challenge
With only weeks away, Chicago's ballroom dance community is preparing for the Chicago DanceSport Challenge. Chicago Dancesport Challenge is a part of the USA Dance Organization. This organization supports Amateur Ballroom Dancing and provides a circuit of dance competitions where amateur ballroom dance competitors hit the dance floor. Participants and ballroom dancers from all over the US will be traveling into Chicago to compete at this years event.
Students from Windy City Wedding Dance have been preparing months for the big competition. This local event drives a lot of hard work and dedication. Practice and hard work pays off. The annual Chicago DanceSport Challenge is hosted at The Hyatt Regency at O'hare. The ballroom and accommodations are top of the line. Competitors start flying into to Chicago as early as October 30th. The Dance competition starts on Friday October 31st and runs through Sunday November 2nd. On Saturday, formation teams of My Dance Hub in Naperville IL, will performing for the crowd.
At this years Chicago DanceSport Challenge spectators can attend the event and watch the following dance categories. This includes American rhythm, Latin, Standard, International, 10 Dance, Formation, Show Dance, and more. These dance styles include, Rumba, Cha Cha, Swing, Bolero, Jive, Paso, Waltz, Vienesse Waltz, Foxtrot, and Quick Step.
For more information and tickets you can visit http://www.usadancechicago.org/ and click on competition. Tickets can be purchased on site at the ticket counter. If you are interested in finding out more about this ballroom dance competition and how to come watch and support students from Windy City Wedding Dance or other neighboring Chicago ballroom dance studios please feel free to reach out and email us at info@windycityweddingdance.com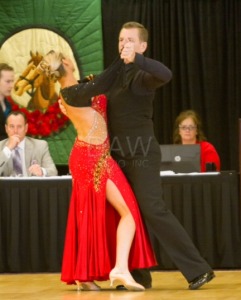 Know someone looking for a fun group dance class for the fall or some wedding dance lessons? We teach ballroom dance lessons, wedding dance lessons, and dance classes.
[actionbox color="primary" title="To Book Now At Windy City Wedding Dance" description="Request Dance Lesson Today" btn_label="Click Me!" btn_link="https://windycityweddingdance.com/book-today" btn_color="default" btn_size=small"" btn_icon=" fa-envelope" btn_external="0″]