Chicago Couple Makes American Dancer Magazine
Chicago Couple Makes American Dancer Magazine
Friends of Windy City Wedding Dance, Rob and Briel Wakerly met several years ago at a ballroom dance studio owned by Tommye Giacchino. I'll never forget walking into the dance studio for my teacher training course and seeing them both training in their private lesson. Through the years I got to hear the exciting story about how they met. Briel, skeptical of Rob's intentions, took her time and once she got to know Rob there was no turning back. These two were on fire and you better move out-of-the-way. If I could think of one word to describe this couple, I would say SPICY.
Rob and Briel got engaged and married a little over a year ago. This was by far the BEST wedding dance I have ever seen. I'll never forget the day they brought in their wedding dance video. Their guests were blown away. Briel, not only a ballroom dancer but also an ice skater, has the physical ability and strength to do amazing aerial tricks. We all share the same coach Tommye Giacchino, a Blackpool World Champion in theatre arts and cabaret. You can catch Rob and Briel performing throughout Chicago. I would describe them as a crowd pleaser.
Journalist Pamela Lyons talks about Rob and Briel. She writes " Another twosome who enjoyed this year's event were Rob and Briel Wakerly form the Chicago area. They competed in the Adult Rhythm and Cabaret Divisions. Rob and Briel met at an Argentine Tango class five years and have been together ever since. Their cabaret performance during Team Giacchino's formation number was a real crowd-pleaser. Clearly Briel has no fear of heights and puts her trust in Rob–an important part of any dance partnership."
Members of Windy City Wedding Dance get to dance along with Rob and Briel at shows here in Chicago. Our next stop will be on Valentine's day at The Athenaeum Theater in Chicago. The show "Dances from The Heart" starts at 8pm on February 14, 2014.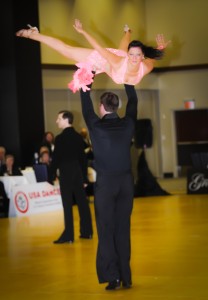 By Jessica Mays 2.1.14
Reference
Lyons, P. (2014 January – February).Chicago, Chicago It's Our Kind of Town. American Dancer, 46, pg 24