2016 Fall Engagement Season

2016 Fall Engagement Season is Here!
It's that time again folks! November marks the beginning of our favorite season here at Windy City Wedding Dance. Not only is it the season of crisp mornings, beautifully painted leaves and spiced apple cider, it's officially 2016 Fall Engagement Season! Over 38% of engagements occur between November and February, making it one of the most exciting times in the lives of people around the world. We love Engagement Season here at Windy City Wedding Dance not only because we love everything that has to do with weddings, but because it is a special time where two individuals come together and decide they want to spend the rest of their lives dancing with one another. 2016 Fall Engagement Season marks the beginning of an entirely new season of life for those getting engaged, their families, and their closest friends. In the spirit of 2016 Fall Engagement Season, we've compiled a list of facts regarding this truly exhilarating time in the lives of millions around the globe.
Engagement – Seasonality Graph and Statistics provided by Wedding Wire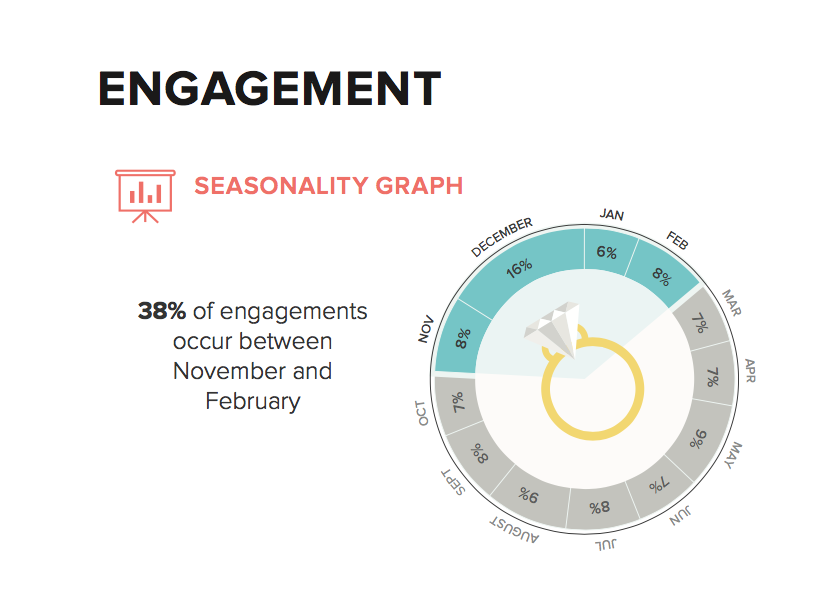 38% of engagements occur between November and February.
17% of all engagements happen on the same 10 days each year
The 10 Most Popular Dates to Get Engaged
Christmas
Valentine's Day
Christmas Eve
New Years Day
Sunday before Christmas
Two Saturdays before Christmas
New Years Eve
Friday before Christmas
December 23
July 4
With July 4th as the exception, all nine of the most popular dates to get engaged fall within the months of November to February; it's no wonder why it's called Engagement Season.
The Ring and Selection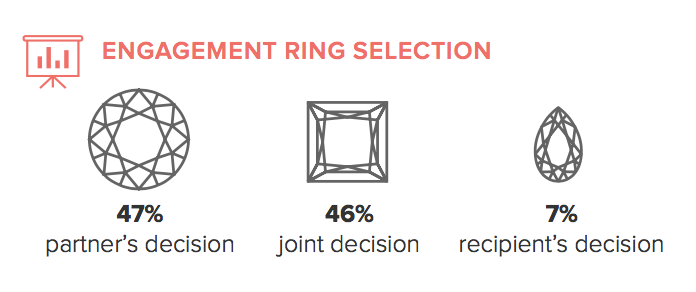 Couples spend an average of $5,000 on an engagement ring
35% say they spent at least a 2-months salary
The final ring choice is governed by a number of factors, including: What metal your partner wants, the diamond size, diamond cut, diamond color and clarity. Even the diamond shape makes a difference to the cost.
61% of guys consult their girlfriend before buying the ring.
Traditions New and Old
71% approach parents to get their blessing
12% hire a photographer for the proposal
66% announce their engagement on social media
Engagement Length
The average engagement length is 12-13 months
However those getting engaged the 2015- 2016 Fall Engagement Season are likely to have either a short engagement (marrying Fall 2016) or a long engagement (waiting until Spring 2017)
Those living in the South and Southwest are more likely to consider a winter wedding
How Couples Navigate the Planning Process
Most Couples Get Inspiration Online Before they are Engaged
Forty-one percent of couples start planning within the first month of engagement. Prior to getting engaged, an average of 8% have already looked at wedding planning sites and more than 50% of couples report having at least 1 secret Pinterest board or other secret account on social media – which expresses to us here at Windy City Wedding Dance that it is never too early to start working with clients to ensure they have the best first dance that will lead them into a lifelong dance and partnership.
Couples spend around 15 hours a week during their busiest time planning, with the majority of that spent online. Due to an uptick in mobile search, 30% of couples spend their times planning from a smartphone or tablet device, mainly during the evening hours. We expect that number to continue to increase, as consumers become more comfortable using mobile throughout their planning process.
Newly Engaged Couples Start Searching for their Vendors Immediately
When jumping into the planning process, couples begin by setting a timeframe and budget. Next, most research venues, create a guest list and choose a color scheme.
Based on the average 13-month engagement, most couples search for a majority of their vendors 7-9 months prior to their wedding. However, data shows that certain categories such as venues, caterers, bands, and Djs are often researched as early as one year prior to the wedding.
50% of couples getting married use products and/or services from at least 10 different vendors; therefore, now is the perfect time to stop into Windy City Wedding Dance and begin your dance from the yes day to the best day.
While Engagement Season continues to shift, we here at Windy City Wedding Dance thought it'd be nice to present to you the top 5 wedding traditions.

Finding out that the first dance is the #1 wedding tradition truly excites us here at Windy City Wedding Dance because we genuinely understand the importance of a first dance and what it means to both the newly weds and everyone watching as they take the floor and dance their way into this new and brilliant chapter in their lives. The importance of a first dance is clearly seen in the fact that 91% of weddings still uphold this tradition and we here at Windy City Wedding Dance want to be there for all couples as they go forth in unity and love. If you or someone you know is getting married we invite you to set up a FREE wedding consultation to learn about Ballroom Dance styles, experience the atmosphere and feel the magic. For the perfect moment, Windy City Wedding Dance.