Top Song Wedding Couples Dancing to in 2023

Here is the Top Song You'll See Wedding Couples Dancing to in 2023
Its April of 2023 and we've already taught about 130 wedding couples so far. Can you take a guess what's trending this year? With each couple averaging around 6 lessons, you can expect to hear their song a minimum of 24 times. Hang on to that thought, we will circle back to the winner.
PAST POPULAR WEDDING SONGS
It just so happens to be a very exciting time for our dance studio. We have officially made it 10 years! Not only have we survived COVID but also "Perfect" by Ed Sheeran. This is the all time most popular wedding dance song played at Windy City Wedding Dance. It started to appear at the end of 2017 and was played over and over in 2018 & 2019. Even though we've had a nice break for 4 years, it still creeps up a few times each year.
THIS YEARS POPULAR SLOW WEDDING SONGS
This years most popular song is not by Ed Sheeran, Sam Cooke, or John Legend! Chris Stapleton is currently one our pack leaders with "Joy of My Life."  Another one of our front runners is Leon Bridges with "Beyond." Both of the songs are best suited for wedding couples who want a more intimate first dance with slower music.
WHAT CREATES FIRST DANCE SONG TRENDS
We see a lot of influence from Netflix, Hulu, and the big screen. For example we've had a nice run the last 2 years with Tina Turner and Schitt's Creek cover of "Simply The Best." We understand the Tina Turner documentary and and Schitt's Creek were driving these songs in the studio. Tina's version was a very fun upbeat song and our wedding clients loved dancing and learning hot moves for their first dance. We also had a nice run with "Can't Help Falling In Love." Not only did we have the influence from the most Recent Elvis movie but also the cover from "Crazy Rich Asians." This one was better suited for couples who were more interested in slow dancing.
WHAT IF YOU DON'T HAVE A SONG BUT YOU STILL WANT TO DANCE
Think more about the speed and vibe you want for your first dance. Are you looking for fun and upbeat dancing or something more intimate? Do you prefer something a little more classic or modern? Once you answer these questions its much easier to narrow down your list.
HERE IS THE TOP 2023 WEDDING DANCE SONG
We are very please to announce that the top song in our dance studio is the cover "Baby I'm Yours" By Arctic Monkeys  . This original tune was by Barbara Lewis. The song starts with the lyrics:
Baby, I'm yours ( baby, I'm yours)
And I'll be yours (yours) until the stars fall from the sky
They articulate a beautiful scenario describing how we belong to one another. So for all your wedding planners out there get ready for a year of "Baby I'm Yours."
Looking for a way to get started on you first dance? Check out our FREE Dance style explorer tool.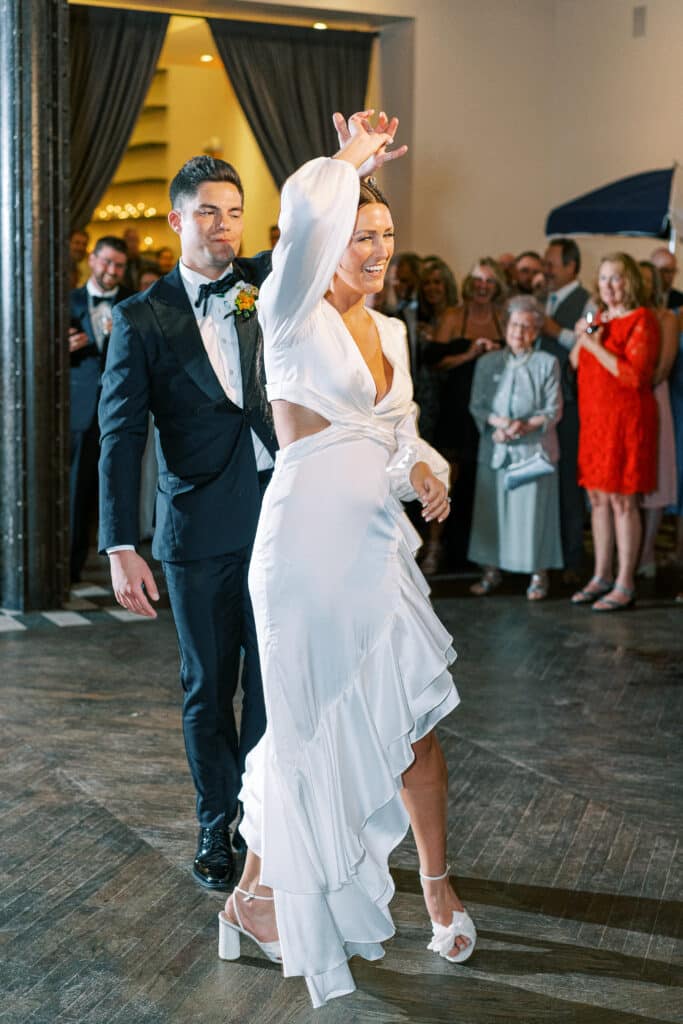 Photographer: @rachaelosbornphoto
Venue: @maedistrict
Planning: @ohanaeventschi
Floral: @thistleandplume
Beauty: @elanadarrus
Paper Goods: @ashleyfryestudio
Video: @hwustudios
Catering: @foodforthought
Band: @chicagocatz
Draping: @quest_events
Linens: @bbjlatavola
Rentals: @hallsrental
Uplighting: @luniksentertainment
Gown: @kyhastudios @chosenbykyha
Shoes: @loefflerrandall
Desserts: @dipsydesserts @sweetmandybs
Arch Rental: @sweetcartsrentals_chicago
Dancers: @windycityweddingdance
Getting Ready Outfits: @madewell