Perfect Wedding Dance Floor
Are you in the midst of planning your wedding for 2015? When we talk with our wedding dance couples, we always ask them about the size of their dance floor. Many of them actually must go back and contact the venue, the reception coordinator, or their wedding planner. Here are recommendations and tips from the Chicago Wedding Dance Specialist at Windy City Wedding Dance.
TIPS FROM WINDY CITY WEDDING
FOR THE PERFECT WEDDING DANCE FLOOR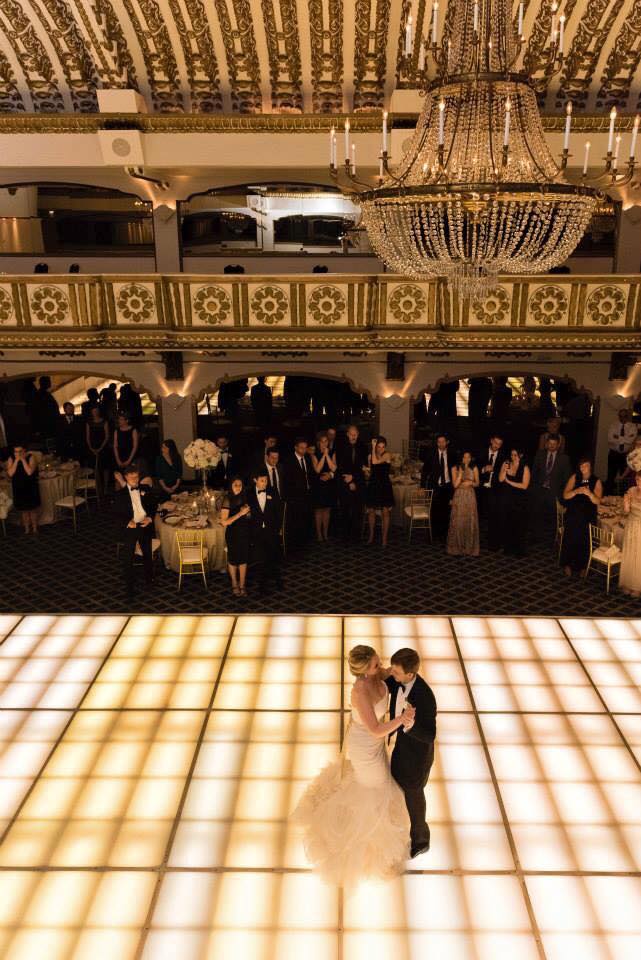 1. GET A LAYOUT OF YOUR RECEPTION SET UP EMAILED TO YOU
Having a diagram can be helpful for many of your vendors especially our Windy City Wedding Dance Team. By having the ability to look at the diagram we can help implement special wedding dance choreography that works best with your dance floor set up.
2. CONTACT YOUR WEDDING DANCE SCHOOL FOR AN INTRO LESSON
By setting up the initial introductory wedding dance lesson, the wedding dance instructor can review the size of your dance floor and make comparisons with the dance style and song you have chosen. Your dance instructor might advise you to make possible changes to the dance floor if needed.
3. CHOOSE A MINIMUM OF 25 x 25 FOR YOUR WEDDING DANCE FLOOR
We feel that 25ft x 25ft is the optimal size dance floor dimensions. This size gives our wedding dance clients flexibility in choosing the perfect dance style. Anything smaller can eliminate specific dance styles. American Rhythm dance styles include Rumba, East Coast Swing, Cha Cha Cha, and Bolero. The specific dance styles can be used on a smaller dance floor. American Smooth styles such as Waltz, Foxtrot, Tango, and V Waltz require a larger space. Your wedding music is what dictates which dance styles can be used during the First Dance.
4. PUT YOUR DANCE FLOOR IN THE MIDDLE OF EVERYONE
If you want your guests to be engaged during your wedding dance then move your dance floor to the middle of the room if possible. Putting the dance floor at the end of the reception room will leave people sitting in their seats and not paying attention to your First Dance.
If you are planning a wedding in Chicago and you need the perfect wedding dance come try an introductory wedding dance lesson at Windy City Wedding Dance. We are Chicago's number spot for learning how to dance for your wedding. We customize each dance to fit the personal needs of each and every client. Check out our monthly blog for latest tips and trends on Wedding Dance.
[actionbox color="primary" title="To Book Now At Windy City Wedding Dance" description="Request Dance Lesson Today" btn_label="Click Me!" btn_link="https://windycityweddingdance.com/book-today" btn_color="default" btn_size=small"" btn_icon=" fa-envelope" btn_external="0″]
Google
[contacts_form]