How to Dodge a First Dance Disaster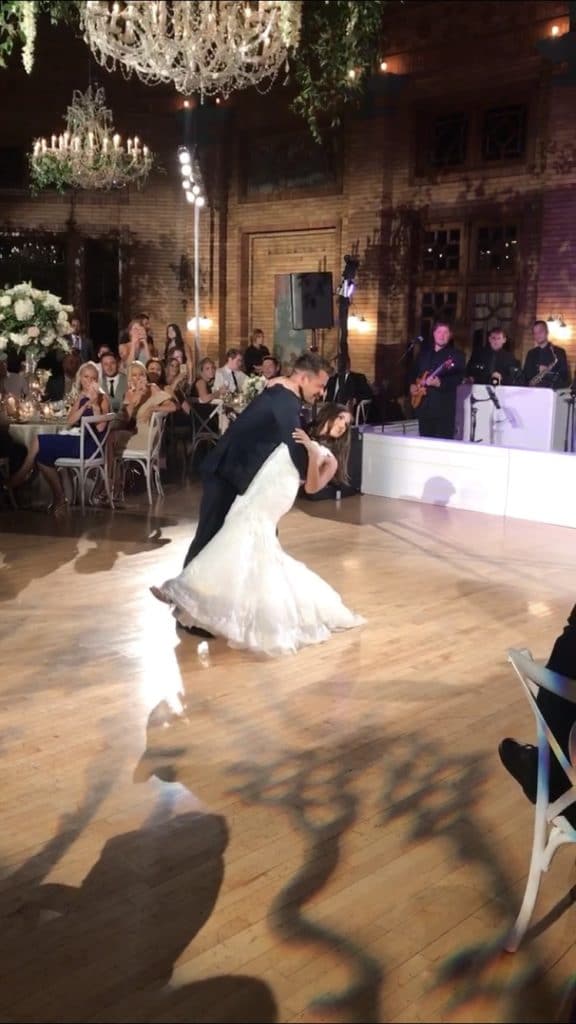 We've all been there watching a disaster of sorts. Whether its an awkward speech given by colleague or one of your best friends dancing at their own wedding, it was down right uncomfortable. These are called sympathy pains. It's pain and empathy you feel for people who are in trouble. How to dodge a first dance disaster is actually easier then you think. Its not as intense as preparing for a marathon but following this guideline can keep you off the prayer list.
How To Dodge a First Dance Disaster
The average wedding in downtown Chicago is a minimum of 40k and as you add guests to the list you can watch the prices soar. Just feeding 150 x $80 per person gets you to $12,000. Add in the venue rental, bar package, cocktail hour, photographer, videographer, band, dj, flowers, linens, rentals, dress, tuxedo, wedding shoes, bridal and groomsmen gifts, hair, makeup, and a wedding planner you've already exceeded your budget in a New York minute. Why would you invest so much money and go on the dance floor and sway back and fourth? This is the moment when all eyes are on you. Recently a client sent over a spreadsheet of costs and I found it eye opening to see that we are one of the smallest investments on the entire list.
Make The Commitment Together to Prepare For Your First Dance
Make the commitment to take dance lessons together. Make a date night out of your lessons. We can guarantee that you will be surprised how much fun it is to learn how to dance together. Taking couples dance lessons is a nice way to escape the normal day to day hustle and bustle. Creating a new hobby from the ground level is important for your relationship. We all need something we can do together.
Give Yourself Plenty of Time to Prepare for Your Wedding Dance
Don't wait until the last minute. The more time you give yourself the better your going to feel. You wouldn't run a marathon off the couch. Be patient and give yourself ample time for the movement and the lessons to sink in and become muscle memory. Couples dance classes can give you confidence so you don't feel silly in the spot light. With adequate practice and training you'll find your self growing during each dance class. When I first started, finding a dance class near me was key. In Chicago there are plenty of locations for dance.
Stay Ahead of Your Dress Alterations
Don't wait to find out on your last dress fitting that you can't dance in your dress. You'll be left with frustration and disappointment knowing you invested your time in dance classes and now you can't take steps in your wedding dress. We cover many of these details on your first dance lesson. We talk about music, dresses, shoes, dance floor size, and more. Make sure you take your shoes to your dress fitting and you explain to your seamstress that you will be dancing. Take steps in your dress to test the length make sure your wedding dress is the appropriate length for your first dance.
Schedule All of Your Lessons
Hold yourself accountable by scheduling all of your lessons in advance leading up to the wedding. Its normal to have to reschedule a lesson here or there, but life is so much less stressful when we plan in advance. Because we are all committed to weddings, organization is key. We all have a busy season, even the dance studio. By starting in January you can give your self a head start on the calendar and get the best spots. We find its more difficult when scheduling on a whim.
Know Your Dance Floor Measurements 
True wedding dance professionals would never start teaching without knowing the size of your dance floor. The last thing you want is something that just doesn't fit. During the first lesson with our clients we always ask for the dance floor size so we know which dance styles would be appropriate for the dance floor size. Your venue coordinator should have access to the measurements. In addition we have had circumstances where couples have increased the size of their dance floor after seeing the actual size. By using a measuring tape we show our clients the perimeter of the space they will be using for their first dance.
Choosing the Right Size Shoe for Your Wedding Dance
Sometimes our brides are inspired to look their tallest on their wedding day especially if their is a significant height difference. Don't make that decision based on taking dance lessons. Height makes no difference when we are dancing. We can design a dance for any couple. We talk about shoes without brides or you can just call it shoe education. Imagine that you work as a nurse and you're on your feet all day. If you just worked a 12 hour shift would you wear 4 inch uncomfortable heels? You might start to look like a chicken in stilts after the second hour. Try to find a comfortable shoe that is kind to your feet. Make sure you take these to your dress fitting. You'll have to dance in that same height. Once the dancing is over it might be flip flops.