First Dance Songs Perfect for 2021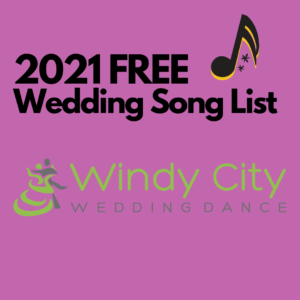 Windy City Wedding Dance professionals are predicting a major come back for the wedding industry in 2021. It's that time of year where couples are starting to think about their first dance. Just to be ready, we have started to compile our list of first dance songs perfect for 2021.
Even though we all have our own favorite style of music, it's normal for a couple to have different tastes. For example, in a big city like Chicago not all of our clients have cars, so sharing the radio during a road trip isn't common.
At the end of the day, you shouldn't feel like you've failed as a couple just because you don't have a love song.
By collaborating with a wedding dance professional, you can try different dance styles and different genres of music. Many of our clients discover what they want inside the dance studio which helps them start to narrow down styles of music.
The first list we are compiling in 2021 are all NEW songs. If you are not a classic or oldies lover  then you'll find these first dance songs perfect for 2021.
Line By Line
Pull up the song Line By Line by Jp Saxe & Maren Morris. Explore this beautiful new duet with romantic lyrics just perfect for a wedding dance song. The tempo and melody is suitable for beginner level dancers.
Whatever Forever Is
On your next search type in Whatever Forever is by Devin Dawson. If ultra romantic is not your cup of tea but the lyrics are still important then you might want to consider this first dance option. I would describe this song as upbeat and not so serious.
This is How You Fall in Love
Jeremy Zucker and Chelsea Cutler give you the option to gaze into each others eyes like no one else is in the room. The soft melody and speed is perfect for a romantic first dance. As the song progresses you can feel the song building and at the very end we finish with a soft acoustic finish.
How High
Check out Kip Moore's How High. If one of you likes country and the other likes rock then you might have the perfect wedding song. How High feels like both. This song has a nice base beat in the back ground perfect for hearing the rhythm as a beginner level dancer.  
Interested in learning how to dance for your wedding. Here are some of the most common questions couples ask us about the first dance. Click here to read more. You can email us at weddingdancers1@gmail.com or call us at 312-725-4198.