Evolution of The Wedding Vendor
Take a journey with us through the history of weddings and its vendors who make it happen. Today the wedding industry brings in an estimated revenue of 60 billion per year just in the USA, and 300 billion worldwide. Over 600,000 businesses are wedding affiliated creating jobs for about 1 million people. If it weren't for the evolution of the wedding vendor, where would we be today?
Evolution of The Wedding Vendor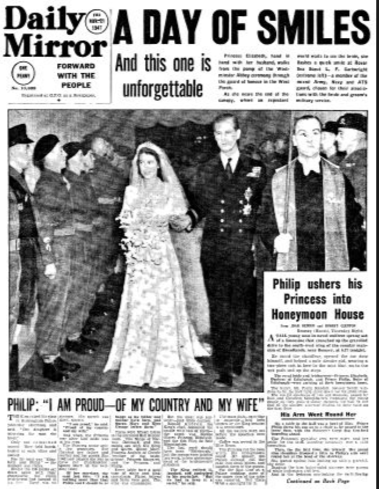 The Past – PRE DIGITAL USA
The strong bond to family and its traditions played a more prominent role in the infrastructure of weddings. Couples were meeting and hosting weddings in their own towns and homes. It wasn't until the early 1900's that dancing became part of the wedding celebration. The role of the automobile also played its own part. Not everyone could afford a car and many of the small suburban towns were structured for walking.
How did a couple choose their wedding vendors in the past? With only a few vendors to choose from, planning a wedding was much simpler. It was quite possible that the town only had one florist. Most wedding ceremonies would take place at the families designated place of worship. Many receptions were hosted in the homes. Weddings were more like a family gathering than an epic party. As time went on wedding receptions evolved and began to be hosted in country clubs and ballrooms.
TIME LINE
1920's – It was in the 1920's that women started to use wedding planners. They began to make some edgier decisions and started changing the style of weddings for the future.
1930's – Through the great depression and war times weddings were a bit more conservative.
1940's – In the 1940's our brides were inspired by lace and Gone With The Wind, but didn't have the means to purchase a wedding dress so they used furnishing fabrics for their wedding gown.
1950's – After the war in the 1950's we saw a shift with a plethora of Church Weddings.  Hemlines of dresses began to decrease therefore exposing the shoe, hints our need and desire for bridal shoes. The 1950's played a big role influencing America.
The addition of TV created a keeping up with the Jones's society. Then we started to see what the rich and famous were doing, understanding we must have that! Young girls all over America idolized Jackie Kennedy's style. Grace Kelly's wedding was referred to as the wedding of the century. As the wedding industry evolved so did our needs for more and more wedding vendors. Crystal, China, and amazing decor were a must, and for those who couldn't afford it, they rented it just like we do today.
In smaller markets the choices were simple with less to choose from. In larger markets like Chicago and New York there were more choices and more vendors. So how did the vendors advertise? Marketing was all about referrals, word of mouth, first hand knowledge, store front signage, posters, magazines, newspapers, and phone books. It was very common for cultures and religions to segregate and it was same for wedding vendors. Relying on your community and great customer experience was all apart of the gig. As a wedding vendor you were a specialist in your own sector. If you were a millionaire you may have your entire wedding on your estate and have your staff preparing the entire event. In this particular circle, they had some of their own preferred vendors, but it was the house maids that were sent into to town to do the shopping so they would choose vendors from whom they were closely aligned.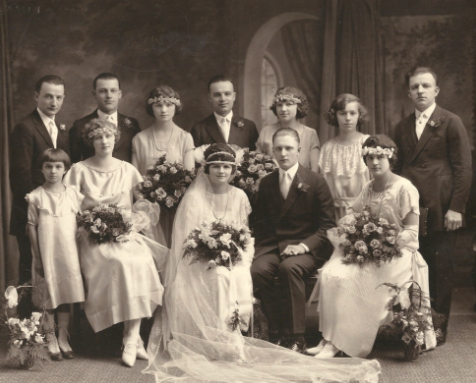 Marketing as a Wedding Vendor PRE DIGITAL
Word of Mouth Oral Announcement
Referrals
First Hand Knowledge
Signage
News Papers / Print
Magazines
Phone Books 
Take a trip back in time for instance and look how our invitation methods have evolved.
WEDDING INVITATION & ANNOUNCEMENT TIMELINE – Evolution of The Wedding Vendor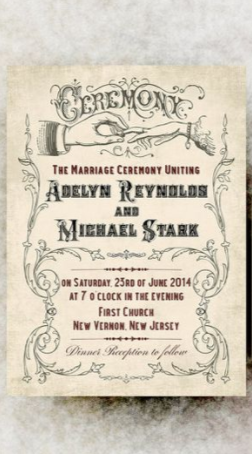 1400's Pre-Gutenberg press – Oral announcement " Hear Ye Hear Ye Be it known to all that Samantha Lee Osher and John Smith Fields are to be married at Two-O'Clock on the seventeenth of June.  (most of the town is illiterate)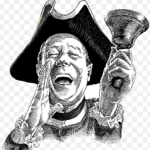 1447 and after Post-Guttenberg press – Those of nobility and aristrocracy had commissioned monks to handwrite invitations using calligraphy.
1600's Another common way to get the word out about your wedding was to put in the newspaper as an engagement announcement or post it after the wedding as a notification.
Mid 1600's Engraved wedding invitations were becoming more and more popular. The tissue paper you see today was used back during this time to keep the ink from smudging.
Until Early 1900's Wedding invitations were hand delivered. To prevent ruin from whether or rough terrain, the invitation was double enveloped to protect the inscribed piece of paper. We still use these methods today.
1950's and on During this era we have now revolutionized wedding invitations and now they are being produced commercially using technology such as thermology, letterpress, and digital methods. Local print shops were big on the scene.
Today companies such a Vista Print and Wedding Paper Divas are providing wedding couples with the opportunity to create and design some of their own unique invitations, everything from engagement announcement cards, Invitations, Place Cards, and Thank You cards. Anything that's paper stock you can probably order through them. The price is cost-effective and not nearly as expensive as using a local printer, but wait do we even need a printer? As we shift into the digital section I will cover more about how technology is impacting invitations, announcements, and thank you cards.
The Present – POST DIGITAL
Fast forward and my has the industry changed. As we have moved to a digital platform we see more and more vendors on the scene. As the latest generations struggle to find work in small suburban towns many of them are heading towards the job rush which takes them to larger markets. These markets include big cities like New York, Chicago, LA, Houston, Dallas, Atlanta, Charlotte, and more. The loyalty to our home towns have suffered due to the economic crises in small town America. The steel and car industry has migrated and been sourced out leaving our blue-collar generation struggling for work or having to move to new places.
Many have fled to these big cities for work, and this is where they meet their life partner. They have now started their life in the big city and have created a new network of friends and people they call their family. They are getting married in cities and markets away from home. They may know their way around town but what about the first barber or hairdresser who cut your hair? There is no home town florist, family attorney, place of worship, or local bakery. They now will be faced with thousands of vendors to choose from and many decisions ahead. Once they become engaged the great race begins for the ultimate wedding vendors. This search begins ONLINE.
The Impact of Digital – Not only has digital changed how we search for our vendors, but also the capabilities that vendors now have for their couples. Its created an entire new category of services for our clients. Lets start with search. Search is how we gather information on potential vendors we would like to use. Although referrals are the best resource, we can't always use the same vendors as our friends. Digital search efforts can be googled by category, searched for on wedding directories, or social media platforms . Have you ever noticed when you search for an item, sometimes it will keep popping up on different platforms like an ad that follows you everywhere? This is called retargeting. Are you sure you don't want to buy those shoes?
Digital Search for Wedding Vendors
Google " Search by Category" Example Wedding Dance Lessons – Chicago (if you are having a destination wedding its important to include the city when conducting the search also check the google map to see if it's in a feasible location. Many vendors are willing to travel)                              
Wedding Directories There are a numerous wedding directories some local and national. Online Resources like TheKnot and Wedding Wire can be helpful for a quick search, but make sure you dive into reviews. Reviews are first hand accounts and can be a great resource.
Yelp and Google Plus (Review Directory) – These directories can be visited after you have found a vendor that catches your eye. For the first time, digital lets us do consumer research like never before. You can also conduct a search directly on Yelp by providing details like city, zip code, and the category of search terms. Example "Wedding Dance Lesson" Zip  Code 60605. Next a list of companies will be displayed along with the address, phone number, photos, and number of reviews. In both platforms there is a 5 star rating system. 1 being the worst and 5 being the best.
Social Media If we have been conducting a search on Google don't worry some of those categories of wedding vendors will start to come across our social media feeds. Most importantly if we have friends in the same market who have just been married, we get to see many vendors in action. When wedding couples post video's, it's like a free commercial for wedding vendors. Florist, Cake Designers, Videographers, Photographers, Dance Companies, Bridal Shops, Hair & Make Up, Wedding Dance Instructors, Wedding Venues, are just a few who benefit from these online resources.
Digital Resources for Wedding Vendors & Benefits
Online Scheduling and Calendars – No more pencils and paper. Online consumers have 24/7 access to book and or reach out to wedding vendors on websites via desktop or smartphones.
New Services Provided                                                                                                                  

Videography- The improvement in video quality has taken videography to an entire to new level. The editing software has cinematic quality and weddings are being captured in 4K footage. The high-def footage is out of this world. Wedding video's are now telling a story like a movie. It's an entire documentary of a wedding. It's not Uncle Larry with the camcorder on his shoulder that's for sure. LeapWeddings in Chicago is an example of a company who make weddings come to life.
Wedding Websites – In the last 5 -7 years clients have been moving to online platforms for more than one reason. Some are environmentally conscious and want to provide information digitally, paper free, but unfortunately great Aunt Ann is 90 and doesn't surf the web so its not always full proof for a wedding to be paper free.
Online Wedding Registry even though department stores have moved their registries to mostly online, couples are now creating their own online registry where you can donate monies towards honeymoons and other things. This is where tech companies have entered the wedding market. In big cities its very difficult for couples to get a bunch of "STUFF". There is nowhere to put these things.
Online Wedding Stores – In many ways these methods are decreasing our carbon footprint. For instance you don't have to go sit down and meet with a printing shop. You can design and order your invitations online. Our company, Windy City Wedding Dance , offers gift certificate that can be purchased in advance as gifts or they can be part of your wedding directory.
Virtual Tours Need to check out a venue. Before you jump in the car and waste a trip check out the website and take a Virtual Tour. Time is money and there is no time to waste. Virtual Tours have helped companies accommodate twice as many impressions without having to schedule an appointment with every Tom, Dick, and Harry.
Credit Card Processors Companies like Square have made credit card processing much easier for wedding vendors. Its not difficult to get your swiper and start charging clients on the road. It requires a device like a smart phone.
The new digital frontier has created many opportunities for wedding clients and NEW wedding vendors. In some ways I'd refer to digital as the "NEW WILD WEST" anyone can create website with smoke and mirrors and dupe clients into thinking they are experts. We see pop up wedding vendors all the time. Always remember to check reviews, get referrals, or check out their online portfolio before jumping into a major purchase. Typically wedding couples are paying a premium for anything that has the word wedding in it. Watch out for unreasonable deposits and look into insurance to protect yourself. Remember at the end of the day behind the digital operation is a human being and we can all make mistakes.