Custom Wedding Dance Shoes
At Windy City Wedding Dance we talk to hundreds of couples getting ready for their wedding and a main concern for the bride is her shoes. She needs the right shoes for her wedding dance. What if you were able to have the perfect shoe for the wedding dance and your wedding day? As of April 1st we are now carrying custom wedding dance shoes by Windy City Wedding Dance.
The custom wedding dance shoes can be order in numerous styles and colors. Our custom shoes are covered in high quality Swarovski Crystals AB stones. Each stone is hand placed on the shoe creating an articulate design. These shoes are made for comfort and dancing, giving you several additional hours before hitting the flip-flops or flats. Our wedding dance heels come in a variety of different heel heights. We offer open toe or close toe selection wedding dance shoes in 1 inch, 1.5 inch, 2 inch, and 2.5 inch heel heights.
Our shoes have a 30 day guarantee from any defects and can be returned as long as they have the original receipt, packing slip, and original shoe box.
Finding the right shoes for your wedding is just as important as your first dance. Comfort, stability, and style is what we offer in our shoe selection.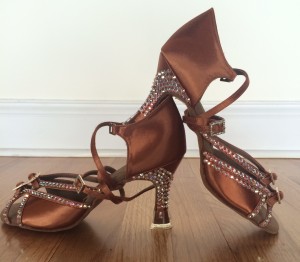 This latin wedding dance shoe has 2 adjustable straps around the toe box allowing our clients to adjust the size accordingly to their feet. This shoe has a 2.5 inch flare heel which is great for balance. The padding in the sole makes the shoe comfortable for walking and dancing on your wedding night.
ORIGINAL PRICE $299.00 VS

SALE PRICE $249.00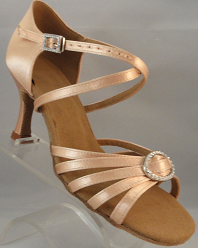 This particular light tan satin wedding dance shoe is our featured shoe of the month. You can either wear this shoe as shown or you can order custom stoning on the straps and heels. We use Swarovski Crystals AB stones and hand place each stone in an articulate fashion. For custom pricing please call 312-725-4198.
ORIGINAL PRICE $99.00 VS
SALE PRICE $87.00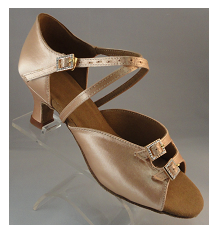 Are you looking for a wedding shoe that s classy yet low to the ground. Our 1 inch wedding dance shoe is a conservative heel designed for comfort and class. This shoe has adjustable straps near the toe box allowing the bride to adjust accordingly.
ORIGNAL PRICE $99.00 VS
SALE PRICE $87.00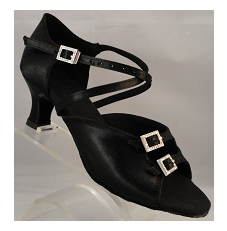 Need a comfortable shoe for your bridal party? Check out this black satin simple shoe. All bridesmaids can wear this versatile black dance shoe which comes in a 1 inch heel, perfect for a full day affair. The toe box is adjustable and can be changed accordingly to fit different foot width.
ORIGINAL PRICE $99.00 VS
SALE PRICE $87.00
For more information call us at 312-725-4198 about our shoes. Other styles available. We can assist customers by appointment only.
[actionbox color="primary" title="To Book Now At Windy City Wedding Dance" description="Request Dance Lesson Today" btn_label="Click Me!" btn_link="https://windycityweddingdance.com/book-today" btn_color="default" btn_size=small"" btn_icon=" fa-envelope" btn_external="0″]
[contacts_form]