Chicago Summer Dance 2014
August 16th 6pm-7pm
Chicago Summer Dance 2014 is hosted by the City of Chicago, Department of Cultural Affairs and Special Events. Thanks to our best friend Tommye Giacchino, Windy City Wedding Dance will be taking the stage on August 16th to teach an East Coast Swing dance lesson for all of Chicago to enjoy from 6pm -7pm at Chicago Summer Dance 2014. The Chicago Summer Dance Series is a free event taking place in the Spirit of Music Garden in Grant Park.
Our History with Chicago Summer Dance
For 4 years we have been attending and supporting our local Chicago dance schools as they teach the art of dancing to Chicago finest dance enthusiast. The nights we attended have included East Coast Swing, Rumba, Salsa, and Cha Cha Cha. Afterwards we always head over to Mercat and enjoy the amazing tapas and truffle mushrooms.
Timing is Key
Mid June we will be opening our first solo space on Michigan Ave right across the street from Summer Dance at 410 S Michigan on the cross streets of Michigan and Van Buren. Plan on seeing Windy City Wedding Dance at the Chicago Summer Dance Series. We will be the only ballroom dance studio on Michigan Ave. We are wedding dance specialist and ballroom dance instructors. We will also be offering rental space for ballroom dance teachers.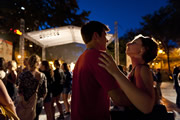 By Jessica Mays 5.29.14
[actionbox color="primary" title="To Book Now At Windy City Wedding Dance" description="Request Dance Lesson Today" btn_label="Click Me!" btn_link="https://windycityweddingdance.com/book-today" btn_color="default" btn_size=small"" btn_icon=" fa-envelope" btn_external="0″]