Ballroom Dance Show 1-2015
Since December of 2014, Windy City Wedding Dance students and friends have been preparing show dance routines for a winter ballroom dance showcase hosted by My Dance Hub located in Aurora, IL. The ballroom dance show consisted of 4 acts showcasing 44 numbers. Windy City Wedding Dance made the trip with 5 ballroom acts. Our dance performers and students worked very hard leading up to the show and the audience reaction was terrific.
Uttara and Adam graced the dance floor with an American Waltz. Adam, a new student to ballroom dance, had performed his show number back in December. Uttara, his professional instructor, choreographed a beautiful routine that includes passion, romance, and a few tricks. Taking the floor in act 1, these two finished their routine and with a great audience applause!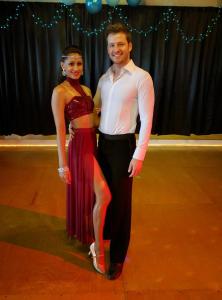 In Act 2 myself and student Eero Pikat stormed the stage with a roaring Tango. Eero is a very dedicated student and ballroom dancer. This past year he took 2nd place in the American Bronze Smooth Division at USA Dance. Eero danced ballet and folk dance styles growing up and has really dedicated himself to studying the sport of ballroom dance. This student took a leap of faith and stepped outside his comfort zone to learn an open choreographed Gold Tango Showdance. The routine was very difficult with lifts, tricks, and new figures. Despite the difficulty, Eero performed strong and gave 100% and left nothing on the dance floor. We are very proud of Eero and his ballroom dancing.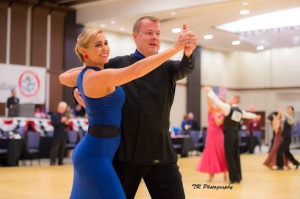 Another personal favorite was our good friends Alesha and Jay. Alesha and Jay have been quick stepping their way to the hearts of their audience each time they take the ballroom. Quick Step, a style of ballroom dance, can be a fun jazzy exciting dance style with kicks, tricks, and wind sprint down the dance floor. Alesha and Jay have now been performing together for over 4 years. Last year they took the stage with an exciting Jive routine. This years Quick Step is my absolute favorite.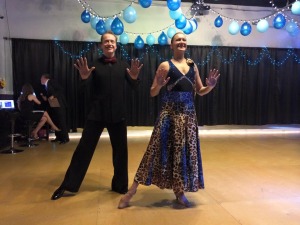 What do all of these instructors and their students have in common? They all have a passion for ballroom dance. The woman behind the inspiration, Tommye Giacchino, oversees this teams choreography and routines making sure they are ready to hit the dance floor. Tommye, the team mentor and coach, has been working with our group for over 5 years and for some  of us over 10 years. She is my personal dance hero! Tommye's back ground in ballroom dance is second to none. Each week you will find her preparing students from all over the midwest. When you leave her side you always feel motivated but know you have work to do on the dance floor.
The Windy City Wedding Dance community continues to stick together and will be performing their next show on stage at the Anthenaeum on February 14th choreographed and coached by Tommye Giacchino. The show, Dances From The Heart, is held at The Athenaeum Theatre at 2936 N Southport Chicago IL 60657. If you are interested in seeing an amazing show and need ticket information click here.
[actionbox color="primary" title="To Book Now At Windy City Wedding Dance" description="Request Dance Lesson Today" btn_label="Click Me!" btn_link="https://windycityweddingdance.com/book-today" btn_color="default" btn_size=small"" btn_icon=" fa-envelope" btn_external="0″]
[contacts_form]