A Chicago Top Salsa Dance Instructor
Have you completed a basic salsa class but need something more? A Chicago Top Salsa Dance Instructor works in the loop at Windy City Wedding Dance and offers instruction 4 days a week.
Meet one of Chicago's top female Salsa Dance Instructors, Vaneza Perez. Vaneza, educated in Chicago, by local ballroom world champion Tommye Giachinno, studied 17 different styles of dance and has become a leading female in the Salsa industry. Last weekend Vaneza performed in Chicago's 2016 Salsa and Bachata festival. The week prior her and her dance team showcased their 2016 showcase number at Alhambra, a salsa night club located in the West Loop. Through, Vaneza's hard work and dedication she manages to dance on several different Chicago Salsa Dance Company teams, teaches in multiple dance studio's and by the way has 2 baby boys. How does she dot it? Im convinced she doesn't require sleep.
A CHICAGO TOP SALSA DANCE INSTRUCTOR
On a normal day for Vaneza may see up to 75 students or more. Vaneza is a Salsa Dance Class Instructor at Windy City Wedding Dance. More than 100 students participate in Windy City Wedding Dance classes per month. Swing by any Tuesday or Friday and see Vaneza in action. Her sweat nature, knowledge, and humor make her a Chicago Top Salsa Dance Instructor. She encourages and inspires her students in many ways. She dedicates time to making sure her students understand how to dance in social dance scenarios. During class she separates the leads from the follows, explaining and breaking down each part, demonstrating for the class, and then dancing with the students. She explains how to count the music and also the distinctions between Salsa, Merengue, Bachata, and Cha Cha. This past Friday she took her Salsa Classes out to the Salsa night club to their steps to the test.
Vaneza teaches Basic Salsa Dance Class, Intermediate, and Advance Level Dance Classes. She also teaches Zumba and a Core Strength class on Tuesdays at 6:30pm. When she is not teaching classes she is teaching private lessons. She has a variety of clients. Some are getting ready for a wedding and others just want to learn how to dance.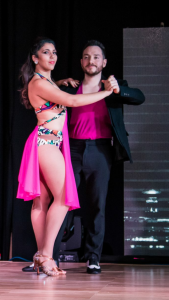 LEARN FROM A TOP SALSA DANCE INSTRUCTOR
[contacts_form]