2014 Christmas Ballroom Showcase
In just a few days our good friends will be heading to the 2014 Sterba's Annual Christams Showcase where they will be performing ballroom dance routines in front of 100's of guests, which include dancers, instructors, and professionals in the area. The event starts early afternoon and runs into the night! You can find a variety of showcase numbers which include holiday spirit, humor, romance, drama, and more. The show includes solo's and formations from surrounding ballroom dance schools in Chicago. Tom Sterba does an outstanding job bringing the dance community together for the holiday event. The event includes performances by students and a professional show at the end followed by a very nice dinner. You can see a number of students who train at Windy City Wedding Dance attending the event.
Uttara Vaidya, a ballroom dance instructor and the owner of Dance with Panache, will be dancing with her student Adam. They will be performing an elegant and romantic Waltz. Adam started dancing just this year and has worked very hard during his lessons to prepare for the showcase. Adam, a personal fitness instructor, has a natural knack for dancing and learns quickly by applying his practical knowledge of personal training and fitness to his dance lessons. Adams personal training company is located in downtown Chicago. Both Uttara and Adam are excited about this weekend and will be rehearsing the remainder of the week in order to prepare for their magical performance on Sunday. Adam, a serious competitor, is shown below trying on his costume for approval by his professional instructor Uttara.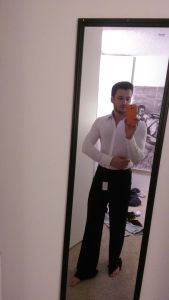 If you have ever dreamed of performing on stage or trying a new hobby like dance, don't keep putting it off. Ballroom dance is a great activity and is perfect for helping us improve confidence, cardio, posture, and of course dancing. Taking dance classes is a great way to socialize and meet other people with common interests. Finding a healthy hobby can be tough. There are many different forms of exercise and you just have to find the one that doesn't feel like work and makes you smile. For me and all my friends, that's ballroom dancing. You can catch us any day of the week at Windy City Wedding Dance teaching dance classes or ballroom dance in the heart of Chicago. We specialize in helping couples prepare for their wedding dance, but at the end of the day we just love to dance.