Wedding Dance Progress Report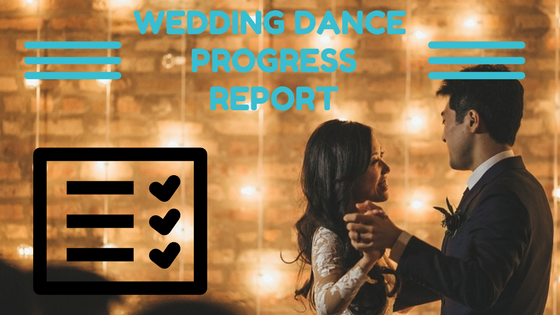 What's a wedding dance progress report? If you're asking yourself how many lessons will you need for your wedding dance, then you are already on your way to receiving an A+ on your wedding dance progress report. We are going to give you the answers to earn straight A's , but in the mean time take this quiz to see if you are on right track. Use this wedding dance progress report to see how your first dance is coming along. Below the correct or correct answers are explained by our wedding dance experts in Chicago. Check out our underlined answers for best practices. Servicing over 2000 wedding clients in a year we strive to keep our clients looking their best on the wedding day.
WEDDING DANCE PROGRESS REPORT QUIZ
Multiple Choice
1 . How will I learn to dance best for my wedding?
A. By watching YouTube videos
B. By purchasing video's online
C. By signing up for group dance classes
D. By purchasing private dance lessons from a wedding dance studio
Private instruction makes learning to dance much faster than trying to teach yourself by watching a video. Group classes are a great a way to make new friends and be social, but most schools require rotation or do not individually fix students during the dance class. In order to keep the class flowing, they must keep going even if a student gets stuck. The best way to learn your first dance is with hands on experience with professional private dance instruction. During the lessons you are able to focus on your first dance and practice with your own wedding song.
2. How many dance lessons or classes will I need for my first dance?
A. 1
B. 2
C. 20
D. It depends on what I want to look like when I am on the dance floor
This is one of the most popular questions we receive from clients looking to start their first dance. We do not encourage a one size fits all approach because each individual is different. One dance lesson is better than none, but if you want to dance with ease we recommend purchasing a package of lessons. By taking an introductory dance lesson a student can learn what's in store and consult with wedding dance professionals about achieving their desired dance goals.
3. How close in proximity should I schedule my dance lessons
A. Weekly
B. Bi-Weekly
C. Monthly
D. Depends on my schedule and availability
Although our go to answer is weekly, we understand that our clients who are preparing for a wedding have so many things going on leading up to the wedding. By scheduling early, you can get ahead start on your dancing and the studio dance schedule. Imagine that 95% of folks are working for a corporation and need after work dance lessons. Get those lessons scheduled in advance for the best experience on and off the dance floor.
4. What kind of shoes should I dance in during my wedding dance?
A. Flats because I'm changing my shoes from heels to flats right after the ceremony
B. The same heels I wore during my dress fitting
C. I'm changing into more comfortable shoes that are the same height as my other shoes.
D. I'm kicking my heels off and going barefoot.
Don't forget that you need to dance in shoes the same height as your dress fitting or you will be tripping over material during the first dance. If comfort is important to you and you'd like a low wedding heel, then stay conservative when shopping for your wedding shoes. Attempting your wedding dance in overly high heels can be a disaster and can look unnatural
How often do couples practice their wedding dance?
A. Daily
B. Weekly
C. Bi – Weekly
D. Hardly Ever
Most all clients plan on practicing in between their dance sessions, but time slips away before their next dance lesson. Some at least get 5 minutes in before the next dance lesson starts. In order to get the most out of each lesson, put a little effort outside the dance studio so we can move on and learn new and exciting material. If not, we will be reviewing.
Are slow songs easier to dance to?
A. Yes
B. No
Not necessarily sometimes it can feel like we are balancing on one leg for an eternity and this can be uncomfortable. A nice medium pace song seems to be easiest for our clients when learning how to dance comfortably. We never change our clients music and less they are asking for other recommendations. We always find a way to make their song work for them.
How should I have my song played at the wedding?
A. Through YouTube
B. Through the internet
C. Through a downloaded version provided and tested by your DJ prior to the wedding
D. By the live band
Please double-check and make your DJ and or live band has the correct version of your song. One of our clients had a live band play the wrong song during their wedding dance. We giggled later but we were very sad for them. Communicate earlier and have a back up downloaded. Don't rely on the internet or YouTube.
BONUS TIP – Need extra credit on your wedding dance progress report? If in the beginning of your dance training you find that your song is too fast, you can practice and build to that speed over time. One of my favorite tools and free applications is called tempo slow. When you download tempo slow you can choose a purchased song directly from itunes and slow the music down by a percentage. For example I can slow a song down from 100% to 80% and start working my way back up to 100%.
Is your wedding dance progress report refrigerator worthy? We hope you enjoyed taking our quiz to see where you rank this semester on your wedding dance progress report. Stay tuned for more tips from the Windy City Wedding Dance blog in Chicago.
QUESTIONS SEND US A MESSAGE ABOUT DANCE LESSONS
[contacts_form]