Windy City Wedding Dance staff and friends continue to perform for the annual Valentine's Day Show, Dances From The Heart. This will be our 4th year participating in the show and we can't wait to show all of our friends and family this year's number. Mastermind and World Champion, Tommye Giacchino, continues to coach and choreograph our numbers each and every year inviting us to be apart of this special event. Tommye, a professional ballroom dance coach and performer, has been participating in the show for a number of years. Each and every year you can expect something exciting with lots of glitz and glamour. Our style, ballroom and Latin dance, is much different from many of the companies performing in the show. It's always a nice addition to the current line up and the crowd really enjoys the selection of music hand selected by Tommye. We are hoping the crowd roars with excitement and enjoys what we have in store.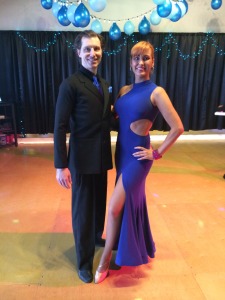 Event Details Special Offer Discount
When: February 14th Valentine's Day

Where: The Anthenaeum, 2936 N Southport Ave. Chicago IL 60657

Discount Code For Tickets ( Friends & Family of Windy City Wedding Dance ) DC14DANCER

Time: 8:00pm
WINDY CITY WEDDING DANCE
Windy City Wedding Dance is a dance studio school dedicated to wedding industry clients. Providing top-notch instruction for wedding couples preparing for their first dance, Windy City Wedding Dance specializes in teaching ballroom dance lessons in Chicago. The school launched officially in 2014 and took over the former Piano Forte retail space location on Michigan Ave. Located on the 2nd Floor in The Fine Arts Building, you can catch a glimpse of ballroom dancers gliding and swaying across the dance floor from Grant Park. Wedding dancers fill the space 7 days a week preparing for their First Dance, Father Daughter Dance, and Mother Son Dance. At night the studio lights fill up the streets with a beautiful glow from the 30ft floor to ceiling windows. What started as a small side business at the end of 2013 grew in to a beautiful environment with some of Chicago's best ballroom talent in the industry. We cater to all levels of clients. If you are in need of dance lessons we cover variety of dance styles which include, Standard, Latin, American Smooth & Rhythm, and Social Dance. If we can't accommodate you, we can make a recommendation and help find what you need. At the end of the day we pride ourselves in striving for excellent customer service.
[actionbox color="primary" title="To Book Now At Windy City Wedding Dance" description="Request Dance Lesson Today" btn_label="Click Me!" btn_link="https://windycityweddingdance.com/book-today" btn_color="default" btn_size=small"" btn_icon=" fa-envelope" btn_external="0″]
[contacts_form]