What's happening in 2018? Dance is growing across Chicago. The Chicago Salsa Congress just finished their 17th Anniversary event. Unfortunately there was a snow storm but that didn't keep our salsa dancers away. Meanwhile hip hop seems to be all the rage among the younger generations. Dance studios in our building are getting awesome participation in their hip hop programs. In February expect dance schools to host their annual Valentine's Day Parties. We just hosted our's at Windy City Wedding Dance on Tuesday night and had an awesome time celebrating with our students.
Dance Studio News
FOX 32 – FEB 17th 8:20am

Look mom we're famous. Check us out this Saturday Morning Feb 17th on Fox 32 at 8:20am talking about, wedding dance lessons, the wedding season, wedding couples, and what to expect in 2018.
CHI-TOWN DANCESPORT March 18th Noon – 7:00pm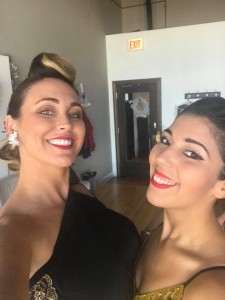 Check us out on March 18th. We will be participating in Chi-Town Dancesport Show Case in Lombard IL featuring our Ladies Latin Performance Team. They have been working so hard on their routine and they are excited to share with you their new sassy performance.
MACY'S FLOWER & GARDEN SHOW 2pm-4pm

March 25th The Windy City Wedding Dance team will be performing at the Macy's Flower and Garden Show. Check out professionals and amateurs take the floor and show you their Ballroom and Latin Dance moves. Expect to see some Waltz, Quick Step, Cha Cha, and Salsa.
MACY'S FREE DANCE CLASS 6:00pm-7:30pm

 https://windycityweddingdance.com/macys-free-dance-class 
Learn basics steps in our Ballroom and Latin Dance Class. This beginner level class is perfect for singles or couples no partner required. Preparing for a special event like a wedding or just looking for a new fun activity join us on April 4th. During class we will be rotating partners so everyone gets to dance.
DANCE STYLES: Waltz, Rumba, Foxtrot, Salsa, Bachata, Merengue
WHAT TO WEAR: Business casual dress. Please bring a pair of clean dry shoes. No flip-flops or snow boots on the dance floor.
HOW TO REGISTER: Send an email to weddingdancers1@gmail.com. In the subject line put Macy's Free Dance Class. Please include the following information for registration. Reservation is required.
First Last Name
Email Address
Phone Number
QUESTIONS SEND US A MESSAGE
[contacts_form]