Dance Classes in Chicago 2014
Where can I take dance classes in Chicago after work? Well if you work or live in the following areas, South Loop, River North, West Loop, Streeterville, or the Gold Coast we are just around the corner. Just type chicago dance classes near me!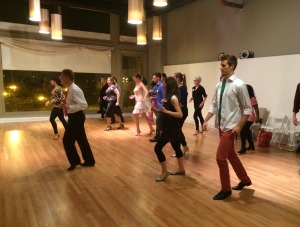 Dance Classes for Couples or Singles in Chicago
Well because we rotate throughout the class, we can accommodate those who bring a partner or those who may be coming alone. We believe that rotating in class makes our students stronger dancers. We also offer private ballroom dance lessons for anyone who may want to take their lessons in a more intimate environment. We teach Ballroom Dance, Latin, and Salsa Dancing 7 days a week. Our group classes take place on Tuesday and Friday nights.
Dance Classes for Beginners or Intermediate Level
With the launch of our group class program in 2014, we have been teaching beginner level dancers from all over Chicago. You can find our group class schedule by clicking here. We offer both ballroom dance styles and salsa dancing. We provide instruction that is easy to understand and that can get you out on the floor in no time. At Windy City Wedding Dance we have a dance studio full of life and excitement and we are ready to help you with your dance journey.
Salsa Dance Class Level 2 Intermediate
Thanks to our students we will be launching intermediate level salsa next week starting on December 2nd. This class will take place for 4 consecutive weeks. The class held on Tuesdays will start at 8:30pm and will end at 9:30pm. Who should take this class? We recommend anyone who has taken our beginner level course can move on to our intermediate level. We will continue to build on fundamentals we skills we learned from our first salsa class. You can find our salsa class schedule on-line or call us at the studio 312-725-4198 to find out more about our salsa dancing program.
Dance Classes 2015
Our new schedule is posted on-line and we will continue to add classes as we continue to grow in the new year. We are very excited about our ballroom dance program and we can't wait to help our students grow on the dance floor. Check out the schedule for periodic updates.
Wedding Dance Lessons
Our specialty is preparing couples for their first dance. We love working with our clients and lead the industry in working with the most wedding couples in Chicago. With so many weddings, we decided we would be the ones to help Chicago get ready for the wedding season. We can take those nervous feelings away by helping you become more comfortable with each dance step. Ballroom dancing helps improve posture and confidence. Once you stop thinking about the steps then its just time to dance. We help our couples by coaching them. We coach them through the entire dance so they have a plan A, plan B, and a plan C. By the time they leave us there is no such thing as messing up. We teach out students how to dance. This is very important. We want out clients to be able to hold each other in their arms 5 years from now and still be able to dance. Our dance classes take true beginners and turn them into confident students!
[actionbox color="primary" title="To Book Now At Windy City Wedding Dance" description="Request Dance Lesson Today" btn_label="Click Me!" btn_link="https://windycityweddingdance.com/book-today" btn_color="default" btn_size=small"" btn_icon=" fa-envelope" btn_external="0″]
[contacts_form]