Chicago Ballroom Dance Show 2016
Extra extra, read all about it! Do you love watching dancing with the stars? How about attending a Chicago Ballroom Dance Show 2016? Windy City Wedding Dance owner Jessica Mays and World Champion Ballroom Dancer, Tommye Giacchino, will be hosting the second annual Studebaker Ballroom Broadway Show Sunday October 23 at 3pm in the iconic Fine Arts Building at 410 S Michigan Ave.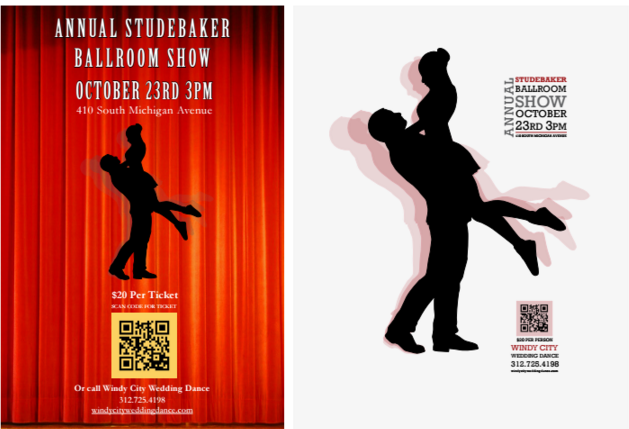 In 2015 the audience was filled with over 150 ballroom dance supporters in the audience and 50 performers. Last years performance included the following dance styles. Foxtrot, Waltz, Quick-Step, Rumba, Cha Cha, Bolero, Hustle, Salsa, Bachata, East Cost Swing, West Coast Swing, jazz, theatrical, and Viennese Waltz.
CLICK BELOW TO SEE LAST YEARS CAST
This years show will include not only dancers from Chicago but also the midwest region. Tickets are now available for $20.00 per ticket. Have you ever thought about performing live on stage? Our performers include beginner level all the way to the professional level. Students will begin preparing for their numbers this spring.
LADIES FORMATION
Would you like to participate in a Chicago ballroom dance show, but you don't have anyone to dance with? Our professional dance instructors perform with their students. Tommye Giacchino's ladies formation team starts rehearsing shortly in Lincoln Park on Tuesday evenings at 2936 N Southport. If you are interested in participating in the ladies formation please email tommyeginc@gmail.com. Pricing and dance rehearsal times are listed below. These practice dates and times will be held inside the Anthenaeum on the 3rd floor.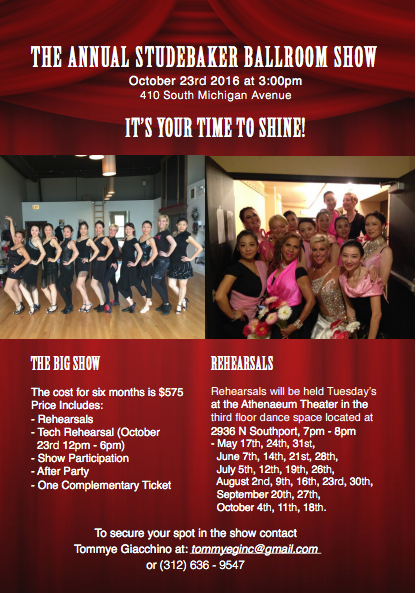 CHICAGO BALLROOM DANCE SHOW 2016
For more information about performing in our annual show please reach out to Jessica Mays at weddingdancers1@gmail.com. Spots are limited so please reach out early.
WINDY CITY WEDDING DANCE
Did you come across this blog but you are getting ready for a wedding? No problem Windy City Wedding Dance is a ballroom dance studio that specializes in preparing couples, moms, and dads for weddings. In addition to weddings we hold weekly salsa dance classes and ballroom dance classes. If you would like to learn how to dance for your upcoming wedding please reach out to us at info@windycityweddingdance or email Jessica at weddingdancers1@gmail.com
 SEND US A MESSAGE
[contacts_form]